EXHIBITION & TRADE SHOW DESIGN
Ideea Messe- und Dekorationsbau
For years, Ideea Dekorationsbau has defined innovation and chic in live events and exhibitions. So today, as one of Germany's premier companies in the business, it is keener than ever to set the standards for style and good taste. The Brüggemann brothers, Peter and Lutz, set up their company in 1990. Being from the former East Germany, where a shortage of everything was the rule, they had mastered the art of improvisation and innovation. These qualities, along with a feel for the extraordinary and an ability to work to tight schedules, helped them establish a reputation for excellence in stage sets for theatre and television productions. One success led to another and soon Ideea became a leading choice for those looking for a service provider that could deliver something special for their live events and trade fair stands.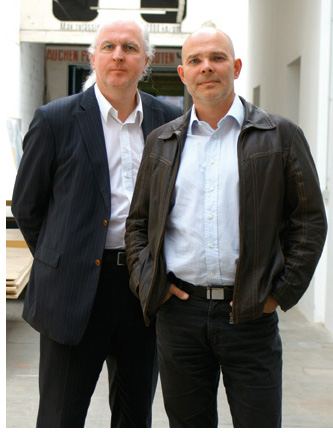 Ideea's founders: Peter and Lutz Brüggemann

"When people really want to be sure
that things will work as planned, they
come to us."—Peter Brüggemann


"The first big booths we built were for RTL in 1999 and 2000," says Peter Brüggemann. These stands, with an area of 1,500 square meters each, were for international media events, where professionals and key players from the television industry met to buy, sell and finance content."

In both the venues, the stands were magnets for visitors and RTL's presence was a roaring success. Ideea was soon gathering industry awards for excellence in exhibition stands that linked marketing messages with architecture and design. Although this was a recognition of the company's originality and creative capacity, what really drives Ideea is its project-management skills and an ability to deliver what it promises.

Says Brüggemann: "Our origins are in show business and our people have theatre in their blood. So we have what it takes to make our customers' projects a success. What is equally important is that the designers that we work with are primarily set designers who know how to serve this market. At the same time, because of our background in theatre and television, we serve our customers differently from companies with a background only in the trade fair business. This enables us to create events that deliver a more dynamic and emotional experience."

Ideea is based in Berlin-Adlershof, one of Germany's largest science and media parks. Historically the location has been known as a centre for technology and innovation. This was the location for Germany's first motorised flight and where several technology pioneers refined their engineering skills. Today Adlershof is home to 18 research establishments and over 200 media and IT companies. Humboldt University's science campus is also based in Adlershof. Being right in the centre of this media and technology cluster has not only enhanced Ideea's access to skilled people but also positioned it as a driver of new ideas and technology. As a result Ideea has become a knowledge centre where technology and creativity interact.

For instance, partnering with the Fraunhofer Research Institute, one of Germany's premier research organisations, Ideea was one of the first to use virtual reality (VR) system for simulating set and booth design in 3D. The platform, called 'Ideea virtuell', enables the company's customers to view how the final booth or stand will look during the conceptual and planning stages. Using polarisation glasses, the technology gives the viewers a full VR experience complete with spaces, floors and furniture. With the help of a joystick, the viewer can virtually walk in and around the object and get a realistic feel for the physical parameters. This way structural components and colour schemes can be changed or modified before the booth or stand is built. According to the company, even for broadcast television, news sets for ARD, ZDF and RTL have been developed with 'Ideea virtuell'.

"We are the only events and trade-fair company with such a system," explains Brüggemann. "Our customers not only get a realistic feel of what the booth will finally look like but it also gives them a feeling of security. If anything needs to be changed or modified, we can do it all before anything physical is built; there are no hidden surprises. One needs to keep in mind that even a relatively small stand of 350 square meters has twice the area of a typical house and, as we all know, things can end up looking quite different by the time they move from a drawing to the physical world."

Ideea's Berlin location is a full-fledged production facility covering 26,000 square meters. where approximately 120 skilled workers produce customer-specific installations. This enables Ideea to complete the various stages of development and fabrication under one roof. This not only speeds up operations but also reduces the scope for error, especially for complex and intricate installations.

"Everybody in the industry knows us here in Germany," emphasises Brüggemann. "And when people really want to be sure that things will work as planned, they come to us."

Ideea was commissioned to build the set for the chancellor duel, Germany's pre-election debate. It also built the two illuminated bridges for Germany's EU Council Presidency. Their 40-metre-long illuminated arc was the central element linking the national flags representing the EU Member States. Another recent project was the visitor centre for BASF. Opened to the general public in 2007, the 2,000 sqm, 10 million euro project functions as a focal point for those visiting BASF's Ludwigshafen facilities, the world's largest integrated chemical complex, spread across ten square kilometres.

With such reference projects, Ideea is witnessing growth in several areas, including productions such as musicals, theatre and other live events, both in Germany and neighbouring countries. In Austria, or instance, the Innsbruck and Salzburg festivals are its long-term clients.