SWISS WEALTH MANAGEMENT

Bank Leu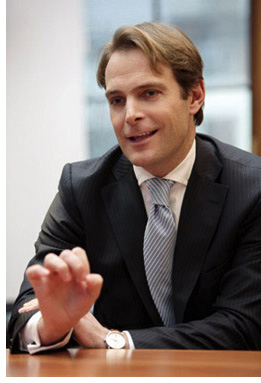 "A willingness to go that 'extra mile'
is what differentiates us from many
other wealth managers."
—Manfred Wergen

Manfred Wergen, Bank Leu's Head of Private Banking for Austria and Germany says: "Wealth management can be compared to a romantic liaison. If the prospective client is convinced that the relationship manager has the competence and the dedication to look after his or her interests and is on the same 'wavelength', then you have the basis of a good relationship. Because of this strong element of human interaction, success in private banking eventually comes down to 'people skills', which include being able to develop an empathetic relationship and strive to do more than what is obligatory. This willingness to go that 'extra mile' is what differentiates us from many other wealth managers."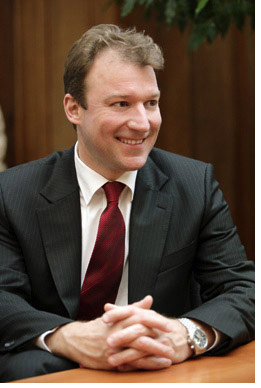 "Our network and how it functions
is a key competitive advantage."
—Adrian Leuenberger

"In addition to our people," says Adrian Leuenberger, Member of Bank Leu's Executive Board, "the combination of our infrastructure, our network and how it functions internally is a key competitive advantage. We have a service structure where each department treats the other as a client. We call this serving 'internal clients'. For us this is a holistic approach. If you look at how traditionally-run Swiss private banks manage client relationships, you will notice that they have certain similarities with the way independent asset managers operate. They have 'star' relationship managers who look after everything for the client—both at the private level and the investment level. Although this still works for a certain client segment, it tends to have gaps where specific skills are missing. So what we try to do is create a mix between specialists and generalists. We all know that it is not possible to have a single person who is an expert in all the needs of a client. So we position our relationship managers as generalists who each have one or two areas of specialisation. They are our window to the client and have a good fundamental knowledge of the products and services that a client would need. The relationship managers, in turn, are supported by specialised groups within Bank Leu, the Credit Suisse Group or third parties who are experts in specific products and services. Such clusters with distinct skills and industry knowledge ensure that our clients receive 'best of class' products which could either be from us, our group or from external sources. This not only makes the wealth-management process more transparent, but also ensures that the clients have access to the right people whenever the need arises."

Bank Leu has been part of the Credit Suisse Group since 1990. Although fully independent (Bank Leu has its own services, research, trading and customer relationship management) it can draw on all the resources of the group, which includes the network, the specialists, investment banking services and products geared towards clients seeking Swiss wealth management.

"We are strong believers in Swiss jurisdiction and Swiss values," says Leuenberger. "We therefore see ourselves primarily as a Swiss bank operating from Switzerland. So what makes us typically Swiss? If you look beyond the traditional bank-client confidentiality, one of the core advantages of Swiss banking, and, by extension, with us, is the continuity and reliability. This is buttressed by our long record of peace and neutrality. Here on Bahnhofstrasse, if you could travel through time and go back a hundred years, apart from the advances in technology, you would hardly see any changes. And, I am sure, if you go forward a hundred years and look around you will not see much difference either. This continuity gives a sense of permanence and stability, which is what wealth management, especially from the perspective of wealth preservation and generation-planning, is all about."

Within the Credit Suisse Group, Bank Leu also functions as a specialist for specialised investment products such as Cat Bond Funds, for instance. Cat Bonds enable the insurance industry to transfer some of the risks associated with natural catastrophes to investors, who in turn benefit from both interest payments and an attractive premium. Due to regulatory factors such bonds are not available for direct purchase by retail investors. Bank Leu's innovation was in the fact that it developed a fund of such bonds and created a new asset class for private investors and pension funds. These Cat Bond Funds can not only be freely traded but also offer attractive returns, uncorrelated with the developments in the financial markets. Bank Leu's first such fund was approved by the Swiss regulatory authorities in December 2001. Investor demand was so good that it had to be closed to new subscriptions a year after its launch. Subsequently Bank Leu launched additional Cat Bond Funds which are again open for new subscriptions.

Outside of Switzerland , the European countries are the biggest single market for Bank Leu, topped by German-speaking Europe. In addition, it has three core growth markets: one is Eastern Europe, which extends all the way to Russia and the surrounding countries; then there is Latin America, which has traditionally been an important market for the bank; and it has a fairly important client base in the Middle East . In all these regions, especially for discretionary portfolio management, Bank Leu's main focus is on high and ultra-high net worth individuals and families.