WEALTH MANAGEMENT
Coutts International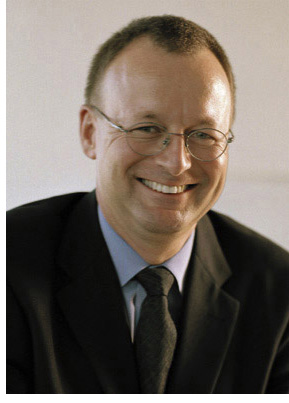 "The client is the centre of our universe,
and we think and look at everything
through the client's eyes."
—Hans-Peter Brunner

The Coutts approach to wealth management is based on a very personalised form of relationship management. Hans-Peter Brunner, CEO of Coutts International explains: "For us, managing client relationships is a triangle between the client, the private banker and his team (representing Coutts), and the experts representing the wealth management solutions. It is a balanced relationship between the three. The client is the centre of our universe, and we think and look at everything through the client's eyes. So, one of the secrets of successful relationship management is to understand the clients' needs and not only what they want, because sometimes there can be a divergence between the two. To take a hypothetical example, let us consider a young entrepreneur running a successful manufacturing or service company. Such people are often totally submerged in their business and have often developed remarkable expertise in their specialised field, which makes them more risk-prone than others. For such clients we develop asset allocation strategies that distribute some of the risk away from their main business and help increase their awareness of profitable industries or business sectors other than their own. So we balance and understand their risk profile, based on their state in life. You know a 35-year-old entrepreneur is a different proposition from a 70-year-old retired landowner. So what we have become quite good at is successfully managing relationships with a diverse group of clients. For instance, if a client wants to actively trade stocks, we have a group of specialised advisory staff who make recommendations and discuss the client's investments on a daily basis. So there is a personal link. In my opinion, you can only be close to the clients, if you approach business as if you were a small boutique."

"If a good portfolio consisted only of a collection of diverse investments," he adds further, "its creation would be easy. However, a skilfully constructed portfolio is unique and built around the specific needs of individual clients, taking into account factors such as goals, return expectations, tolerance to risk, liquidity reserve requirements and reference currency, among other variables. Our job, therefore, can be seen as a mandate for developing strategies and investment portfolios based on a thorough understanding of the needs and profiles of our clients. An important point to keep in mind is that we are wealth managers and not product pushers. Of course we have a set of successful investment products and we offer family office type of advice. But those products are components of our wealth management solutions and we are not under any pressure to sell them to our clients."

The Coutts wealth management proposition is further enhanced by Coutts International's Swiss location. But what is so special about Switzerland? Experience has shown that the Swiss have the best track record for managing private wealth, which is quite a different from managing institutional money. For private clients, discretion, safety, absolute performance and confidentiality are all of prime importance. For institutional clients it is mostly relative performance and safety. Private clients also demand a host of additional services in which the Swiss excel.

Brunner explains: "Sometimes it is very troublesome when people say that Switzerland has been promoting tax advantages. The fact is that there are other very important reasons why people put their money in Switzerland . First, we have a strong culture of respecting client confidentiality. This is important because the wealthy often have complex lifestyles, and they need to be fully assured that all their interests—such as family, charities, and even ex-wives or girlfriends—are taken care of after they have gone. And second, wealth management is not a short-term proposition. It is a responsibility which often stretches over generations and involves a variety of inter-linked factors, which include looking after trusts, inheritance and estate planning, etc. In addition, as a neutral and stable economy, we in Switzerland offer a level of security and continuity that is difficult for other countries to match . As a member of the board of the foreign banker's association, I have been following the discussions on Swiss banking very closely. Taxing non-resident investors is clearly a fiscal issue, and has nothing to do with client confidentiality. We have a system that respects the confidentially of the clients. The Swiss stand on this point is that we cannot disclose the names of our clients to anybody, not even to the Swiss tax authorities. At the same time, nobody in Switzerland is interested in supporting terrorists or crooks. At Coutts, I think we are even ahead of our competition in terms of due diligence. For instance, if someone is exposed to corruption or political scandals, we are not interested in dealing with them. We would rather be in the news for the performance of our products, and our business integrity, than be even remotely associated with unsavoury individuals. We have a reputation to protect which has literally been built over centuries."

In many banks when a relationship manager leaves, another is simply allocated, without giving much thought to the client's preferences. To assure continuity, Coutts chooses team-members who can work with clarity and possess the experience and background so that clients feel that they are interacting with one of their 'own'. Such teams specialise in addressing distinct client groups, based on multiple factors such as geographic location, the demographic (age and income), the psychographic (lifestyle, family status and personality), and the behavioural, to develop unique group profiles.

Explains Brunner: "Some large organisations have a problem on the relationship management side. First, they do not really look at the client's needs, and second, due to the high turnover of their staff, new relationship managers often start looking after clients without a proper hand-over. In contrast, we take such issues very seriously. For example, we have a 65-year-old private banker who has been with Coutts for 40 years. He has now reached an age where he is handing over clients. This is a long process because the clients are used to working with him and need to get to know the replacement well before the hand-over. As relationship management is the human link between the bank and its clients, continuity is very important."