PRIVATE EQUITY

Capvis Equity Partners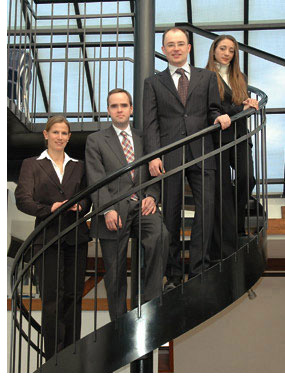 From left: Julia Stadler, Marc Battenfeld,
Daniel Flaig and Concetta Sonetto of the
Capvis team looking after German investments.
Capvis has shown that it can carve out a distinct market position in financing management buyouts and providing expansion capital to growth-oriented mid-sized companies. The firm's focus is businesses with between €30 million to €300 million enterprise value in Switzerland, Austria and Southern Germany. The majority of such companies are in high-value manufacturing and technically demanding precision-engineering sectors.

The origins of Capvis go back to 1990 when it was established as a separate department, later named SBC Equity Partners by Swiss Bank Corporation. In 1999 it was spun-off as Capvis Equity Partners, with UBS retaining a minority stake in the firm. In 2003 the Capvis team bought out UBS and since then the partners fully control the firm.

Daniel Flaig, a partner at Capvis says, "One of our strengths is that we promote entrepreneurship in our portfolio companies. And by having done our own buyout, we have shown that we live by what we say."

But what makes Capvis an attractive investor for those seeking private equity? "One of the most appreciated attributes for our investee companies," explains Flaig, "is the harmonious relationship that we build with them. Management teams value this and know that when we invest, it is a partnership and not just a quick in-and-out situation. In addition, we help our portfolio companies in a variety of decision-making processes, such as planning acquisitions, entry into new markets, strategy development, improving operations, and so forth. For instance, we assisted Tobler Group, one of our portfolio companies that we divested last year, to implement a new logistic system. In addition to significantly improving operations, the logistics system, along with various other efficiency measures, helped Tobler double its EBIT. Another example is that of Uster Technologies, a Swiss manufacturer of measurement instruments used for quality control in the textile industry. In December 2002 we invested in the company's buyout jointly with Quadriga, the German private equity house. Although a global operator, Uster's main growth markets are now in Asia, where it was seeking to further expand its operations. As such, through our relationship with Asian investors, we helped Uster establish a production facility and negotiate with potential acquisition targets in China."

Such services are supported by Capvis's network of advisors. Wolfgang Quantschnigg, who represents Capvis in Austria, is an experienced turnaround manager; and Hans Knürr, who represents Capvis in Germany, is the former CEO of Knürr AG, a company that was part of the Capvis portfolio during the 1990s. They and others such as Bernard Steck and Rudolf Lyner, both former Capvis partners, not only function as anchors in the Capvis network, but also as 'ambassadors' who assist in cementing international contacts for the firm's portfolio companies.

When one examines companies that perform well, they do so because of sound decisions. So a lot of what Capvis does is related to management: helping with strategy development and implementation. "For us the management is at the centre of a transaction," says Flaig. "Therefore, the quality of people running the organisation is of utmost importance."

In assessing potential investments, he further adds, "we can delegate the functions of financial audit, industry appraisal and legal due diligence; but these so called 'hard facts' only tell half the story. We therefore evaluate in detail the environment the company operates in and the way the managers think and react to different market conditions.

Such aspects essentially address the future development of the company, where the value will come from and how value can be generated. All this goes beyond the analysis of financial statements, sector assessment and other quantitative data. Another factor is that when one looks at technology companies in which CapVis invests, a company's past performance is not a guarantee for its future development.

Flaig explains, "As the evaluation period is always relatively short, such factors can get difficult to determine. This is why I always compare due diligence with the work of an archaeologist excavating a mosaic. One can find single stones, but seldom all the pieces. For the complete picture, the excavator needs to view all the pieces not only together but also in the correct position. For us the challenge is similar, as we do not always get all the information that we would ideally require. The skill in our work therefore, is to be able to fill in the voids and make the right judgement. This is not only hard work, but also a matter of experience."