The ALPINA experience or the pleasure of performance
How a small German carmaker has made a name in high-performance luxury cars.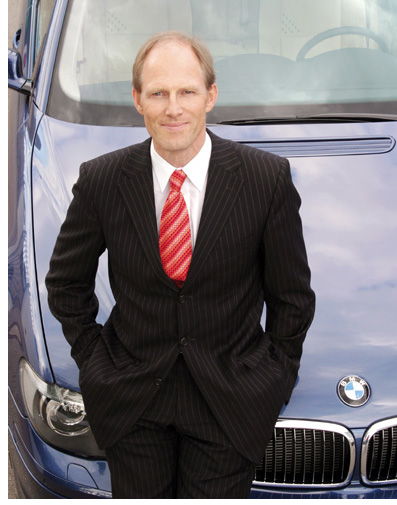 "ALPINA owners are people who enjoy driving and seek something extraordinary." —Andreas Bovensiepen
In the last few decades, the range of people who drive an ALPINA has expanded considerably. The philosophy behind ALPINA cars and the way they are built is part of this appeal. The engine, drive-train, suspension and the interior are made by ALPINA and the rest by BMW. In this sense, an ALPINA combines the 'joy of driving' with the 'pleasure of performance'.

"One master mechanic builds an ALPINA engine out of 1200 parts by hand. We then deliver the complete engines and drive-trains to BMW's plants in Dingolfing, Regensburg, Munich or Spartenburg, wherever a particular model is being assembled," explains Andreas Bovensiepen, the founder's elder son, who looks after sales and marketing. "For the Z4 Roadster for instance, we sent our engines to Spartenburg and then the cars were shipped back to our plant in Buchloe, where we then installed the interiors and wheels."

To pinpoint why ALPINAs command a fierce following, we asked a cross-section of owners their reasons for buying an ALPINA. The most common answers were driving pleasure, individuality and the ability to identify with the brand. The cars are unpretentious and their brand-specific characteristics all embody a decent sense of understatement. Because this vision is clearly expressed, and because ALPINA has defined its market niche relatively well, the company has created a level of brand recognition and loyalty that sets it apart.

ALPINA's history is closely linked to performance enhancement and racing. The first product introduced by Burkard Bovensiepen, the company's founder, was a dual-carburettor system for the BMW 1500 in 1961. ALPINA has come a long way since then. Today, integrated in BMW's just-in-time (JIT) production system, ALPINA is recognised as an independent automobile manufacturer, producing cars ranging from the 200 PS, entry-level diesel-powered D3 to the V8, 500 PS (493 horsepower), B5, B6 and B7 models.

"Those who buy these cars," explains Bovensiepen, "seek something extraordinary and are people that enjoy driving. They want to have a car that is not only exclusive but also combines a high level of performance with comfort and reliability. In this sense ALPINAs are complementary models to the BMW 'M' series. The M series are performance cars designed for people who would perhaps also race them on a track. ALPINAs on the other hand, are performance cars designed for high-speed, long-distance driving that combine easy handling and smoothness with maximum comfort."

In this 'top-end' of the market, where ALPINA produces less than a thousand cars a year, craftsmanship and the ability to leverage new developments are of much greater importance than mass manufacturing skills. Moreover, the talent required is of a different sort from that in conventional automobile production, where companies need to manage high volumes of standardised products. In R&D for instance, ALPINA's core skills are based around its ability to develop original ideas to tackle technological challenges. With its new family of V8s for instance, the engine development possibilities were constrained by the space limitation in the engine-bays in the BMWs of the 5, 6 and 7 series. Instead of using a bi-turbo design, therefore, ALPINA installed a nautilus-type compressor (supercharger) which not only saves space and enhances the power curve, but also runs quieter in comparison to Roots-type compressors. Another space-saving measure has been a single radiator to integrate the cooling for the engine, alternator, gearbox and the air-conditioning.

"When you look at our history," says Bovensiepen, "we have come up with several innovative concepts. A very interesting car was our B10, based on the E34 (5-series). Introduced in 1989, its 360 PS turbocharged six-cylinder in-line engine was the first bi-turbo production engine in Germany and gave the E34 a top speed of 290 kmph. After that other car makers followed with bi-turbo implementations. Another development where we led the industry was in metal substrate catalytic converters. In the mid 1980s, to reduce pollution, the German government was contemplating speed limits on the autobahns. The problem was that in those days catalytic converters were based on ceramic substrates which stifled the performance of high-powered engines. So with Emitec, a specialist in the field, we developed a range of metal-core catalytic converters suitable for use with high-performance engines. At the Frankfurt Motor Show, I think it was in 1985, ALPINA presented a complete line-up of cars fitted with such cats. Another industry first was our implementation of the manual shifting of an automatic gearbox, which we introduced in 1993. Between 1995 and 1998 we also produced the first 3-series with a 4.6 litre V8 engine, developing 333 PS."

Some of this passion reflects in the company's racing heritage. Many famous drivers such as Derek Bell, James Hunt, Jacky Ickx, Niki Lauda, Brian Muir, Gunnar Nielson and Hans Joachim Stuck all secured wins for ALPINA during the 1960s and 1970s.

"For example," explains Andreas Bovensiepen, "before he went to Ferrari, Niki Lauda was racing in Formula 1 with BRM. So one weekend he would drive an ALPINA and on the next a Formula 1 car. In those days many of the Formula 1 drivers competed in touring car races and so, in an ALPINA, Niki competed against the likes of Emersons Fittipaldi and Jackie Stewart and often won against them."

"ALPINA won the European Touring Car Championship three times: in 1970, 1973 and 1977," he adds further. "We also won the 24 hours on the Nürburgring circuit twice in the 1970s and I achieved an overall win in the 24-hour Nürburgring with Hans Joachim Stuck in 1998."

Andreas Bovensiepen started to race in 1984. After graduating from university, he stopped racing and began working for a manufacturer of carbon-fibre components. Later he went on to BMW where he spent five years in R&D and two years in marketing.

"The time I spent at BMW was very constructive," says Bovensiepen. "Among the various opportunities, I got a chance to work with the technical coordination of the Z8 project. From my perspective it was extremely interesting as the Z8 was a low-volume car. I was responsible for the weekly technical meeting and for sorting out the development issues for the bodywork, the drive-train, the design and other aspects that were relevant to the project. The Z8 was developed with an M5 engine and a manual transmission. I felt that with such a great design, the car would surely find buyers who would be interested in an automatic transmission. So we decided to develop an automatic version with an ALPINA engine and drive-train. Finally the ALPINA version that we came up with had 4.8 litre V8 with 380 PS. With that project I moved to ALPINA and we made 555 cars, of which 450 were shipped to America."

As a small company, the ability to focus on the singular objective of building high-performance luxury cars has enabled ALPINA to combine the benefits of industrial-scale production with that of low-volume customisation. In distribution, it has also achieved a scale that is difficult for small manufacturers to achieve. For example, on the basis of its agreement with BMW, ALPINA can choose its dealers from BMW's network. In Germany it has 25 dealers. In Japan, it works with the Nicole Group, which has eight sub-dealers. In the US ALPINA has an agreement with BMW of North America and, due to the American dealer regulations, each dealer will get at least one B7. Because not every dealer will have a market for the car, dealers in California, Florida and other parts of the East coast will end up selling more B7s than those in other parts of the country. When one looks at the company's models and volumes, it becomes clear that it plans to remain small and exclusive. In five years from now, for instance, ALPINA will probably produce 1500 cars per year.